Low Fat Baked Potato Soup
Annacia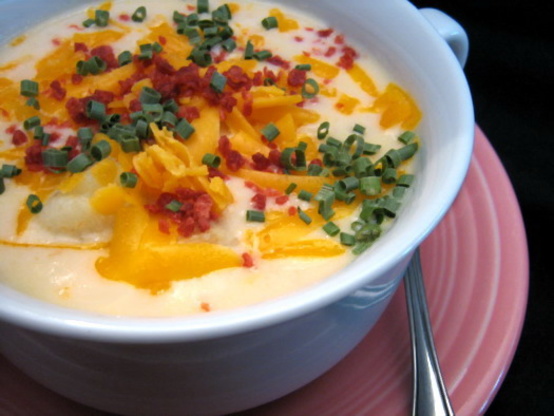 A yummy creamy soup that you won't believe is low fat!
Preheat oven to 400.
Pierce potatoes with a fork and bake for 1 hour or until tender. Cool. Peal potatoes and cut 2 potatoes into cubes, and mash other 2 potatoes. Set aside.
In a large sauce pan or dutch oven, melt butter over medium-high heat. Add onion and garlic and saute for 3 minutes, or until onion is translucent. Add flour and ground mustard. Cook mixture for 2 minutes. Slowly add milk, stirring with a whisk until blended. Bring sauce to boil and then reduce heat to medium-low. Cook sauce for 10-15 minutes, or until sauce begins to thicken. Stir in potato cubes and mashed potatoes, salt, and white pepper. Remove from heat.
Stir in sour cream and cheddar cheese. Adjust seasonings to taste.
Sprinkle each 1 1/2 serving with 1 t bacon bits, 1 t cheddar cheese, and 1/2 t chopped scallions.