Low Fat Asparagus Frittata (With Egg Beaters)
SesameF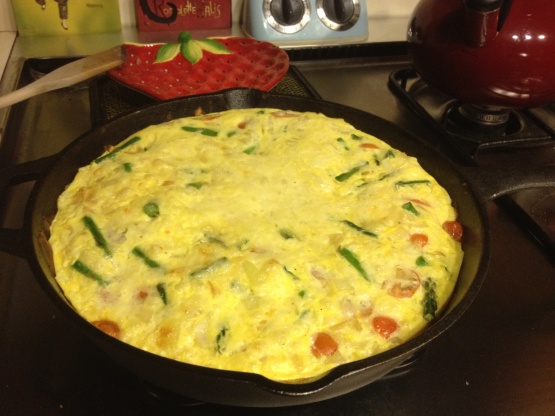 I got this low fat, low carb, low calorie recipe from the Egg Beaters website. I haven't tried it yet but I want to!
Preheat broiler.
Mix Egg Beaters, cheese and milk in medium bowl until well blended; set aside.
Spray medium skillet with ovenproof handle with cooking spray; heat over medium heat.
Add asparagus, onions, salt and pepper; cook and stir 3 minutes, or until vegetables are crisp-tender.
Add tomatoes; cook 1 minute, stirring occasionally.
Add Egg Beaters mixture.
Reduce heat to low; cover skillet with lid. Cook 12 minutes, or until bottom of frittata is set but top is still slightly moist. Remove lid from skillet.
Place skillet under broiler. Broil 2 minutes, or until top is set but not browned.
Cut into 4 wedges to serve.