Parsley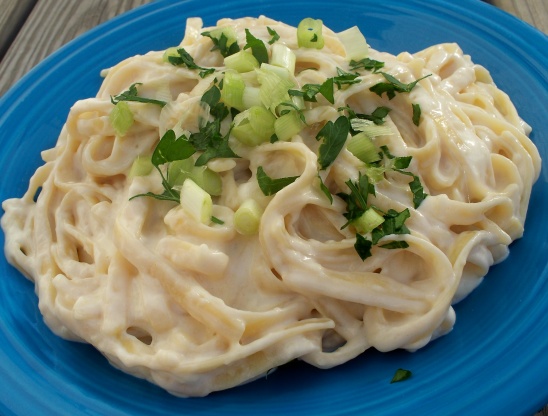 A great way to get your Fettucine Alfredo fix without all the fat.

Top Review by xtine
I think Rachel007 may have mistakenly used sweetened condensed milk instead of evaporated milk - this is a huge difference. Many products labeled "condensed milk" (in the US, at least) are actually SWEETENED condensed milk - they have a lot of sugar added to them and are meant to be used in desserts. I cannot see this recipe having a "sickly sweet flavor" from evaporated milk. I think this recipe may have been a victim of "wrong ingredient syndrome" :)
In a saucepan, combine the evaporated skimmed milk, 2 tablespoons grated nonfat Parmesan cheese, 3 teaspoons butter-flavored sprinkles and 1/4 teaspoon ground white pepper.
Stir well. Cook on med-low til sauce is heated through.
Gently stir in 10 oz of cooked, drained fettuccine pasta.
(Add a little more milk if it seems too dry.) Remove pot from heat and add the remaining 6 tablespoons grated nonfat Parmesan and toss.
Garnish with scallions and parsley.
Serve immediately.