Low(Er) Fat Collard Greens
Heirloom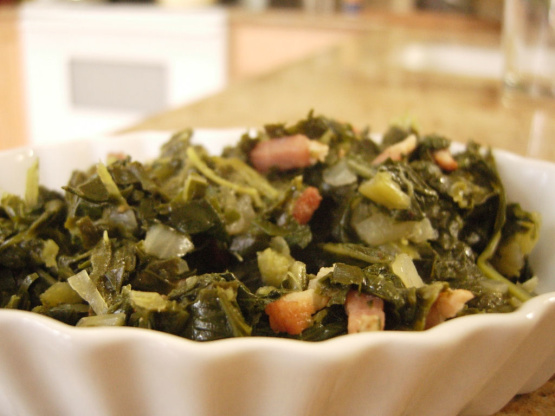 Collard greens are very high in fiber, thiamin, niacin, Vitamins A, C, E, and K, folate, potassium, calcium and manganese. Unfortunately, when they're cooked with salt pork, lard, or other fats the nutritional content just flies out the window. This is my lower fat version.
In a 3 quart saucepan over medium high heat heat the olive oil just until the scent of the oil starts to bloom.
Add the butter and allow to melt in the oil.
Add the turkey ham and saute for about 3 minutes or until you start to get those little brown bits on the bottom of the pan.
Add the onion and stir with the ham, scraping up the browned bits from the bottom of the pan.
Saute for about 2 minutes.
Add half of the collard greens and allow to cook down some, about 1 minute or so.
Add the last of the collard greens and stir until the greens, onions and bacon are combined.
Cook over medium high heat for about 2 minutes.
Add 1 1/2 cups water and stir again.
Allow to come to a boil over medium heat.
Reduce temperature to low and simmer for 30 minutes, adjusting heat to maintain a constant simmer but not let it boil.