Low Carb Stuffed Meatloaf
SEvans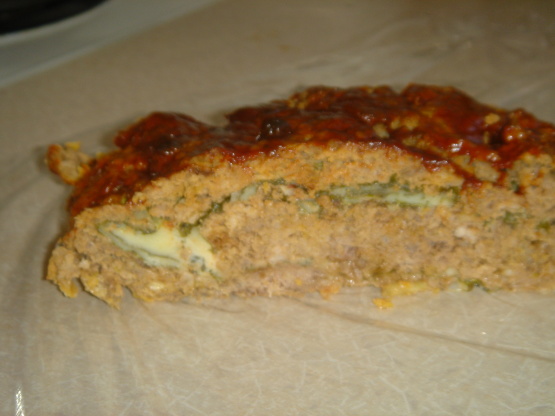 Low Carb Meatloaf stuffed with Spinach and Mozzarella cheese

This was very good! I left out the green peppers but otherwise stuck exactly to the recipe. This made alot and I can't wait for my leftover meatloaf sandwich! Thanks for sharing.
In a bowl mix together all ingredients except the mozarella and spinach.
On a piece of waxed paper or plastic wrap - spread out the meat mixture - place the spinach ontop - pressing it in slightly - top with Mozarella cheese - and roll it up using the waxed paper or plastic wrap to help you roll it together tightly.
Place in an oven safe dish - bake at 350 degrees for 1 - 1 1/4 hours.
Remove from the oven and let it rest for 10 mins before cutting.
Serve with a tossed salad -.