Low Carb Stuffed Cabbage Casserole
dojemi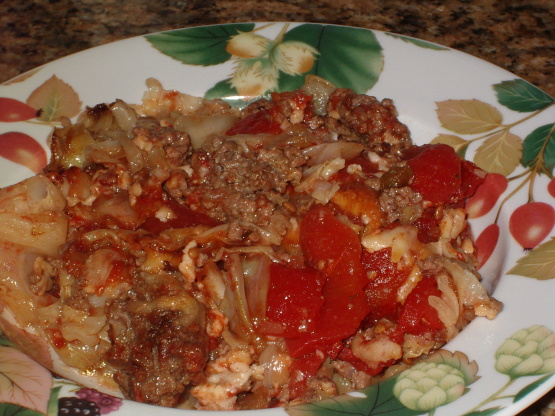 This is a great casserole for anyone on a Low Carb diet. It has tons of flavor and you'll never miss the rice! When I can spare the extra carbs, I saute the cabbage in butter with about 1/4 cup chopped onion rather than boiling it. Or I add a little onion powder to the browned beef.

I found this to be rather dry, with little flavor other than the meat. I would not recommend a 9x13 dish, I had a hard time getting two layers to cover the pan, I would suggest an 8x8. The low carbs are nice, and it was filling, just not very flavorful.
Chop cabbage, and place in a dutch oven.
Cover with water and boil 2o minutes or until tender.
Brown ground beef and drain well.
Mix cabbage and beef together.
Place 1/3 of meat mixture in a 13x9x2 baking dish.
Top with 1/3 can of tomatoes.
Top with 1/3 cup of shredded cheese.
Repeat layers 2 times, making 3 layers in all.
Bake uncovered at 350 degrees for 1 hour.