Low Carb Squash Casserole
Parsley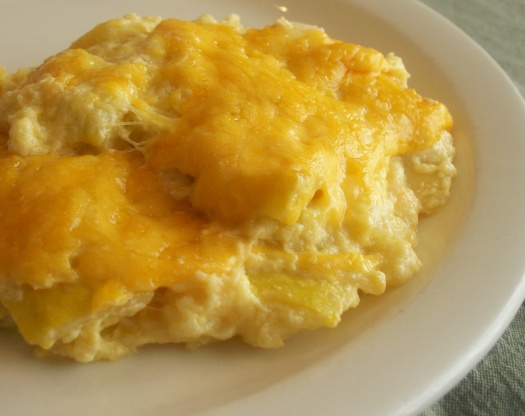 I made this for Thanksgiving and know one even knew we were watching our carbs. My kids think it tastes like the Boston Market version.

Five stars for easy and for flavor. The directions I think need to be adjusted for those NON cooks. First, peel the squash or not. I didn't, and wouldn't but my friend who was cooking me thought you should, she is a non cook. Second, why would you steam garlic. I simply pan sauteed the squash, onion and garlic on medium heat with just a little butter to soften. Same result. Third, mention the type of cheese or suggest one. I used a mix of monterey jack and cheddar, but there are many options which can really change the final flavor of the dish. Fourth, Onion ... how much, what size, 1/2 could be golf ball size to softball. I used a medium sized onion, but you may want to mention that Last ... Natures Seasoning? I know what you meant but many people don't. An all purpose or Ms. Dash or something similar. Try to give some alternatives for people to use. I also added additional salt and pepper. But I really enjoyed the flavor, as I am a big squash fan. It was very tasty and unique which I enjoyed. Again, loved the dish, but the recipe for a non cook I think needs to be more detailed. Thx for sharing
Steam squash onion and garlic.
In food processor mix Mayo, cheese and egg.
Add squash, natures seasoning and blend.
Pour into a greased quart sized casserole dish.
Top with additional shredded cheese.
Bake at 350 for 40 minute.