Low Carb Shrimp With Creole Sauce
Rita1652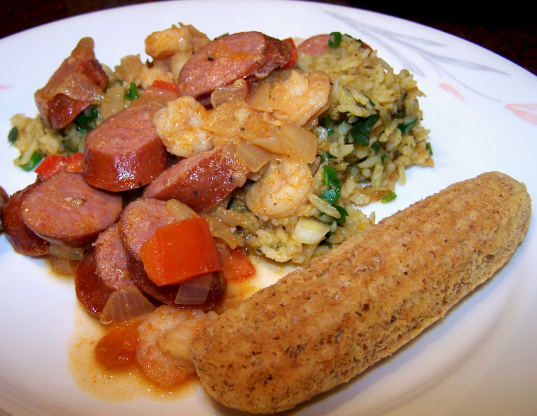 I made this for my best friend's birthday. She is on a low-carb diet but I was also cooking for kids and men (A challenge!) I had NO leftovers. This came from a Bon Appetit magazine. Very easy and very good.
Heat 2 tablespoons olive oil in heavy large skillet over medium high heat.
Add shrimp shells; saute until brown, about 5 minutes.
Reduce heat to medium low.
Mix in tomato paste.
Add broth, then brandy, garlic and thyme.
Simmer 20 minutes.
Strain into medum saucepan; pressing on solids.
Add cream; simmer until sauce is reduce to 1 cup, about 10 minutes.
Heat 1 tablespoon oil in another heavy large skillet over medium heat.
Add shrimp; saute just until cooked through, about 2 minutes.
Transfer to bowl.
Add sausage and onion to skillet; cook until golden, about 4 minutes.
Add bell pepper and Old Bay seasoning; saute 3 minutes.
Return shrimp to skillet.
Add sauce and bring to simmer.
Sprinkle with parsley.