Low Carb Shrimp Salad with Aioli Mayonnaise
Directions
Steam or boil shrimp until pink and then plunge into ice water to stop additional cooking.
For Aioli Mayo, mix together: sourcream, mayonnaise, garlic, parsley and lemon juice.
In a medium bowl, toss shrimp and veggies together.
Add enough of the Aioli to hold the shrimp salad together.
Add seasoned salt to taste.
(Optional: Add Old Bay Seasoning) Chill and serve.
Reviews
Most Helpful
excellent!! never made aioli before but I think this made it-also cukes and pepper where a nice touch=left the tomatoe out...this was really good. I've made it twice so far and its staying in the summer rotation!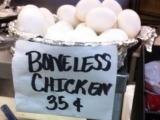 I used light mayo so perhaps that undermined the deliciousness, but I wouldn't make this again. Also, I would leave off the Old Bay.

I've never used garlic in my shrimp salad so I thought to give this a try. Very nice! I subbed celery for red pepper, used red onion and left out the tomatoes. I really like the flavor of the cucumbers in this. I dumped a whole bunch of old bay in this because O.B. makes shrimp salad IMHO. Will serve the little bit of aioli leftover with fish tonight. Great recipe, thanks!