Lisa J.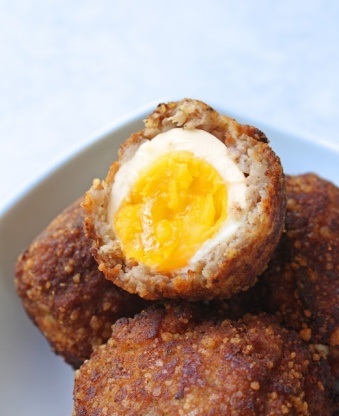 This was another staple when I was low carbing. You can change the level of spice by choosing a spicy sausage or hot pork rinds. They are very good with mustard or salsa.

This was perfect! I love the low carb and I didn't spoil it. I also made a sauce with mayo, wasabi and a splash of hot sauce. This was perfect. I didn't have peppers but I will add some next time. You can also spice it up by using spicier sausage and the hot pork rinds. This is a keeper! Thank you so much!!
Mix all ingredients (except eggs) together until thoroughly blended (it is best to use your hands).
Divide the meat mixture into sixths and pat out one piece in your hand and mold it around one of the eggs.
Repeat with remaining eggs and meat.
Place them all on a baking sheet or in a baking pan and bake at 350°F for 30 minutes.