Kathy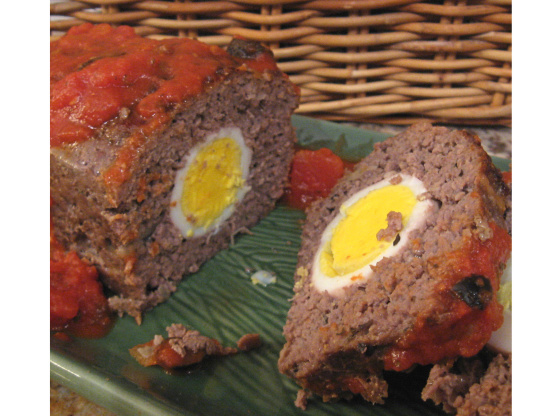 This can be topped with a marinara or alfredo sauce.

Top Review by Kathy
Another winner! This was my first time making a meatloaf with hard-boiled eggs inside, and it was a hit. I started using a 9x5 loaf pan, but that was too big, and I switched to an 8x4 loaf pan. The baking time was a tad too long for my meatloaf, and next time I'll reduce the time by 15 minutes. A really nice meatloaf, that I'll be making again. Thanks!
Preheat oven to 450°F.
Mix up all ingredients except the hard-boiled eggs.
Pat just under half of the meat mixture into a loaf pan.
Lay the hardboiled eggs on top and form remainder of meat around them.
Bake for 10 minutes at 450, then reduce heat to 350 and bake another 1 hour and 15 minutes (75 minutes total at 350).