Low Carb Rich Chocolate Ice Cream
Hollyism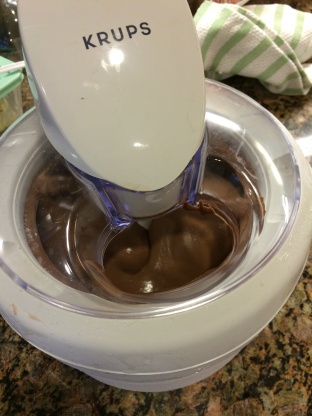 This recipe is for a decadently rich and creamy low carb chocolate ice cream.... think Haagen Dazs! I recommend Swerve Sweetener (Erythritol) for this recipe since it really does taste just like sugar and has no aftertaste like some other sugar substitutes... but by all means use whatever sweetener you prefer. You will need an ice cream machine for this.
In a medium saucepan over medium heat combine cream, milk and cocoa, whisking to combine. Bring to a simmer. Remove from heat and stir in chocolate chips until completely melted. set aside.
In a medium mixing bowl, whisk together egg yolks and Swerve until a pale yellow and thickened, about 2-3 minutes. Add 1/2 cup of milk mixture to egg/sugar mixture while continuing to whisk so you don't cook your eggs. Repeat 2 more times adding 1/2 cup of milk mixture to egg mixture.
Stir egg mixture back into saucepan with remaining milk mixture. Place back on stove and over medium-low heat bring back to a simmer. Continue to stir until mixture thickens slightly and coats the spoon. About 5-7 minutes.
Remove from heat and pour through a mesh strainer into a medium bowl to remove any lumps that may have formed. Stir in vanilla and place bowl in an ice bath to cool to room temperature.
Completely chill mixture in the refrigerator for 4 hours or overnight is best. Freeze in Ice cream maker according to manufacturer's directions.