Low Carb Pumpkin Spice Latte
Delicious version of the Starbuck's latte but without all the carbs. You can adjust the cream to coffee ratio to your own tastes.
Directions
Combine heavy cream and pumpkin in a saucepan over medium heat and stir constantly. Stir in Splenda and spices. Heat just until boiling.
Pour mixture into blender and process on high for 20 seconds (be careful!).
Pour into a large cup, add coffee, and enjoy!
Most Helpful
I googled this because I wanted a low carb option to still be able to enjoy my pumpkin spice latte's .... I made it the first time with the cream- it was a bit too rich for me, and made my tummy hurt. So.... I did half the cream, and half milk.... I plan on replacing the milk with the hood carb control coffee, but all and all I am super pleased with the outcome! Very tasty!
Great alternative to Starbucks. I used a little less cream and added in some milk as I'm really sensitive to cream and it makes me ill. Still tasted great and the texture was good too.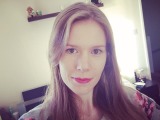 This was delicious, but I thought it was too much cream for one drink and it watered down the pumpkin pie flavor. I used a homemade pumpkin pie spice blend (from this site) since I don't usually stock pumpkin pie spice, and that worked out well. I don't usually put sugar in my coffee, but I found that sugar really is necessary in this drink in order to get the right pumpkin pie flavor. Thank you, AnnieGirl. Made for Fall 2012 Pick-A-Chef.