Low Carb Pizza - Zucchini "crust"
docbower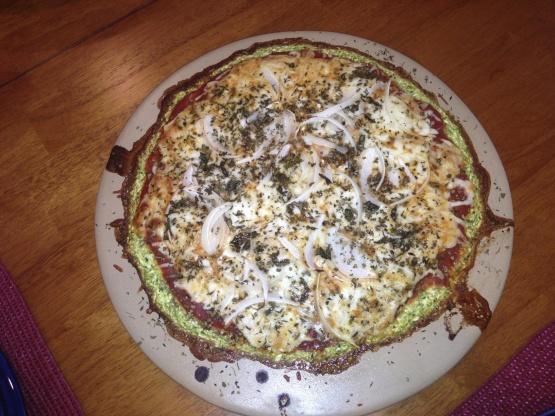 I made this up last night, because we were hungry for pizza while doing the low carb thing. It's not as good as real pizza with bread crust, but we enjoyed it a lot. It satisfied our craving, and my husband asked me to make it again tonight. Hope you like it, too!

Great recipe however I salted the zucchini first and let it 'sweat' for 15 minutes and then wrung out as much of the water as I could. Eliminates the watery problem you have with zucchini.
Preheat oven to 375 degrees.
Spray a pizza pan with cooking spray.
Mix well grated zucchini and 2 eggs.
Place zucchini mixture on the pizza pan, spreading out to the edges of the pan.
Bake at 375 degrees for 30 minutes.
Spread pizza sauce on partially-cooked"crust" to within about 1/2 inch of the edge.
Top with pepperoni and/or other pizza toppings.
Sprinkle both cheeses on top.
Bake for another 30 minutes or until cheese begins to brown.