Low Carb Peanut Butter Cookies
rtroiani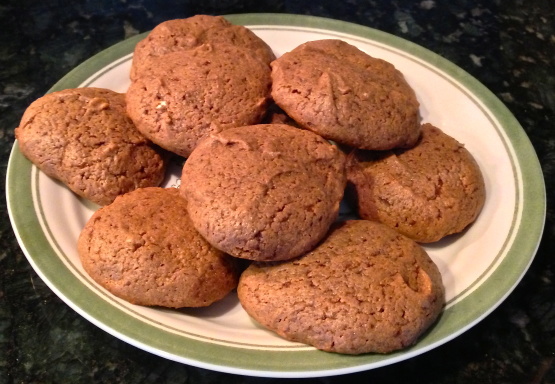 I adapted my favorite cookie recipe because I started the Atkins diet. They were pretty good. I liked the original recipe because it is so simple and easy and everyone loves them.

Just made this with the following changes and additions: 3/4 cup splenda, instead of 1 cup, 2 eggs instead of 1 egg, 1/2 tsp cinnamon, 1 tsp baking powder, 2 tsp sugar free smuckers caramel sundae syrup (squeeze bottle), NATURAL peanut butter (ingredients are just peanuts and maybe salt...nothing else) and 2 tbsp flax seed. These turned out awesome. They really weren't as crumbly as I feared they would be, which is why I added the flax (not to mention the omega-3's and fiber you're getting from it). Slightly crumbly on the outside and chewy on the inside. Turned out AWESOME. I think i'm going to add maybe another tsp of caramel or drizzle some on top before baking to give it a different texture and flavor. I would flatten them out a bit before baking because they pretty much retain the same shape and size that they originally were in throughout the baking process. I would definitely make these again with my alterations. Haven't tried the original recipe and quite honestly, I can say that since egg and peanut butter both get crumbly when they are cooked in dry heat, which is why it is important to add an extra egg. The natural oils from the natural peanut butter and flax seed give it that chewiness it needs. I would strongly recommend not using commercial grade crap peanut butter like skippys or jif. Smucker's has a natural peanut butter out there too if natural peanut butter is hard to find.
mix ingredients in a small bowl.
drop by rounded teaspoons onto cookie sheet.
bake at 350 degrees for 12 minutes or until set.