Low Carb Mini Cheesecakes
cjr721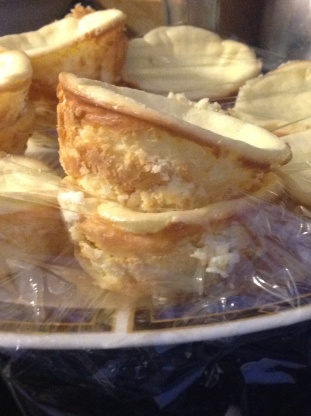 A good recipe when you want a little something sweet when you are on a low carb diet. You can freeze them and take them out when the craving hits you. The chill time added into the preparation time.

YUMMY....i added half of a sugar free oreo on the bottom of the cup...then just a tiny dab of sugar free smucker's strawberry jam on top...OMGOSH!!! it does increase the carb count by about 2-3 extra carbs.
Preheat oven to 325 degrees.
Combine cream cheese, Splenda and vanilla until smooth.
Add eggs one at a time, beating until smooth.
Spray cupcake pan with cooking spray.
Fill each cupcake hole 3/4 full.
Set cupcake pan in a jellyroll pan or any other pan that is large enough for the cupcake pan to sit in.
Fill jellyroll pan about half with water.
Bake for 30 minutes.
Let sit until cooled.
Chill in refrigerator for about 1 hour or so.
(I was impatient I threw one in the freezer for about 15 minutes to chill it) If you would like to freeze it, just put cool pan into freezer.
When it freezes, you can just pop them out of the pan and put them into a ziplock bag then back into the freezer.