Low Carb Macaphony and Cheese
Kathy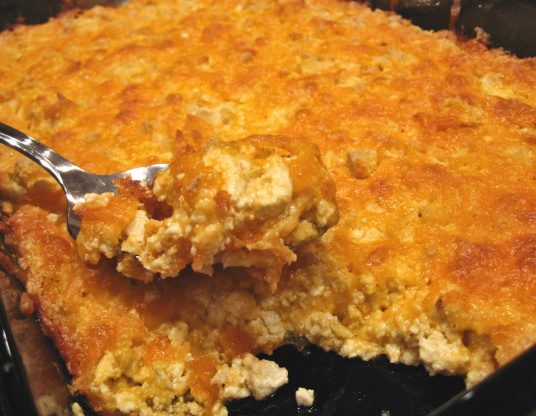 Spread it thin and cook it longer for better texture! This recipe is from my low carb days. I made it often. It is all natural and rich and a very good fix for a pasta craving. Cooking time includes 30 minutes for drain time.

Top Review by Kathy
10/7/09: Made again and allowed the tofu and spices to sit overnight to absorb the flavors as suggested by another reviewer. Not a favorite recipe for my DH, but I like it -- especially when mixed with broccoli and a bit of diced ham. This recipe could also be used as a hot dip for celery or crackers. 4/7/06: Good recipe for when carb cravings hit. I added some diced ham (personal mac & cheese preference) but didn't add the parmesan on top and it had plenty of cheese. I like the idea of letting the tofu sit overnight to absorb the flavor, and will try that next time. I also like to add vegies to my mac & cheese, and this is a good base recipe. I was out of cayenne pepper and used hot pepper sauce, and that worked perfectly.
Drain tofu well (I let mine sit in the colander for awhile and then I squish out even more liquid with my hands).
Mix all ingredients together mashing the tofu well (but leaving a few chunky pieces),.
Place in a buttered casserole dish.
Sprinkle with Parmesan and a little paprika.
Bake at 350°F for 45 minutes.
The top should be golden brown (its the crispy brown parts that really give it the flavor).