Low-Carb Fauxtatoes/Cauliflower Deluxe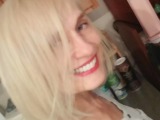 This is based on Dana Carpender's recipe from her book 500 Low-Carb Recipes. She is my all time favorite low-carb recipe writer -- she's the real deal. I make this for my husband and I in place of mashed potatoes and we love it. Dana recommends either adding a few cloves of sliced garlic to the cooking water or roasted garlic to the food processor when blending for "a little zing" -- I take the roasted garlic route myself.
Directions
Simmer the cauliflower in water with the cream added to it (necessary to keep the cauliflower sweet and displaying an appetizing color). Drain thoroughly when very tender.
Place the warm cauliflower in a food processor with the cream cheese, butter, and salt and pepper to taste, and process until smooth, in batches if necessary.