Low Carb Cheesecake Nut Crust
cckarl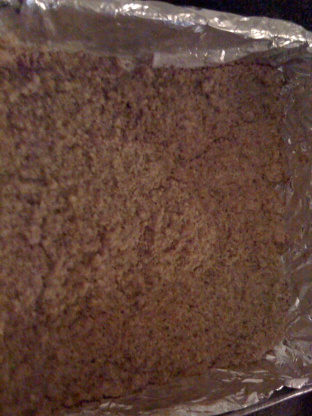 This crust works nicely with "Beachgirl's LowCarb Cheesecake". The nuts can be chopped rather than ground into meal for a crunchier consistency.
2 1⁄2 cups ground almonds (or pecans or walnuts)

2

tablespoons Splenda sugar substitute

4

tablespoons melted butter

2

tablespoons unsweetened cocoa powder, for a chocolate nut crust (optional)
Preheat oven to 350 degrees.
Place nuts in bowl of a food processor; pulse until ground into a meal.
Add Splenda, butter and cocoa powder (optional) pulse to combine.
Transfer nut mixture to a 9" springform pan and gently press to form a crust on bottom of pan.
Bake at 350 degrees for 10 minutes Remove from oven and cool.
Fill with your favorite lowcarb cheesecake batter and bake according to cheesecake recipe directions.