Low Carb Cheddar Cheese Souffle
CJ J.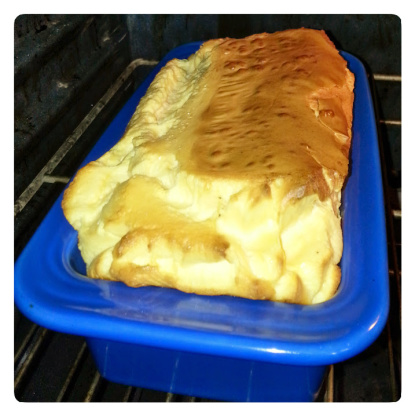 This recipe was first published in a book by Carol Cutler called The Six Minute Souffle, but I found it on the blog www.sweetyetsour.com where her daughter posted it. In additon to being a tasty, low carb dish I believe it is also gluten free. I followed Ms. Cutler's ingredients and instructions to a "T", but did lightly dust the buttered souffle dish with grated parmesan cheese (additional amount to the 1/4 cup ingredient), and the top of the souffle as well as the edges were an attractive deep brown when baked. I find that leftovers heat well in individual portions in the microwave.

Very rich, totally delicious. I used my immersible blender, would have been easier with standard blender, dusted pan with parm as contributor suggested. Filled the house with the most tantalizing aromas while baking and we weren't a bit disappointed when it finally emerged from the oven--it was terrific! I had made it with 7 eggs rather than 5, so adjusted the other ingredients to a bit less than one and a half extra. Baked it in a Corningware French White casserole dish with straight sides because didn't have large enough soufflé dish, it puffed nicely. The browned top, sides and bottom tasted so good I thought I'd died and gone to heaven. Easy as can be, readily available ingredients, tastes and looks good enough to serve at a party, and virtually no carbs. Who could ask for more? This one's a winner for sure!
1. Preheat your oven to 375 degrees and butter a large souffle dish or.
6 small souffle dishes.
2. Add to the blender the eggs, cream, Parmesan, mustard, salt and.
pepper. Blend until mixed well and smooth.
3. With the blender running, add the cheddar through the hole in the.
lid, one chunk at a time until all are chopped up and the mixture is.
thick. Add the cream cheese in the same manner. (Note – the mixture.
will be very thick at this time; it may be necessary to stop the.
blender and stir the mixture around with a spatula to fully.
incorporate the cheeses.).
4. Once all of the cheddar and cream cheese is fully incorporated, run.
the blender for 5 more seconds, just to get a little air in the.
mixture.
5. Pour the mixture into the buttered souffle dish(es).
6. Bake the souffle for 40-50 minutes depending upon your preference.
The original recipe says that either you can bake the souffle for 40.
minutes and use the "liquid center as a sauce to spoon over the rest.
of the souffle", or you can just do what I do and bake it for 50.
minutes to get a nice firm souffle all the way through.
The souffle will have a lovely brown top:.