Low Carb Beef and Broccoli Stir Fry
Prep 20 mins
Cook 10 mins
-Carb count per serving :9.4 minus 4 grams fiber= 5.4 carbs & 19.1 gr. protein Found this on www.lowcarb.ca, where it was posted by Atomhockeymomm. I found this to be as good as any non-lowcarb stir fry
Directions
-In a 10" skillet or wok heat the oil;add the prepared vegetables.
-Cook,stirring quickly& frequently until vegies are crisp tender& onions are browned.
-Stirin the beef strips,cook till desired doneness.
-Ina small bowl, combine the remaining ingredients, stirring to dissolve the cornstarch; add to the beef mixture& cook stirring constantly until sauce is thickened, 2-3 minutes.
Reviews
Most Helpful
This was a tasty and satisfying meal. I took other reviewer's suggestion and doubled the sauce, which I am so glad that I did. I also made this for a serving for 4. I ended up using frozen broccoli crowns that I steamed in the microwave. I julienned the carrots, as well. I served this with some brown rice, and it was a big hit!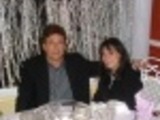 I made this using frozen broccoli florets and added some minced garlic to the veggies as they were being sir fried. I also doubled the sauce and added ground ginger. I left out the salt because there was enought sodium from the soy sauce. Following Chef Ironbox's advice, I added more Splenda to the sauce. I'm glad I doubled the sauce because I think that amount came out perfectly. This dish was delicious and didn't taste like I was eating something that was so good for me. I will be making this often in the future. It's a great way to lessen the carbs in my diet. Thanks for sharing, dave27th.

I made this first for myself as part of my new low carb diet. I used 16 oz. frozen broccoli, doubled the chicken broth and cornstarch and didn't use any sugar/splenda or salt. Served over lentils, thanks to chef Ironbox for the suggestion. TASTY! The second time, I had to make sure to make enough for the kids too! They loved it!