Low Carb Basil and Garlic Cauliflower Mash
cckarl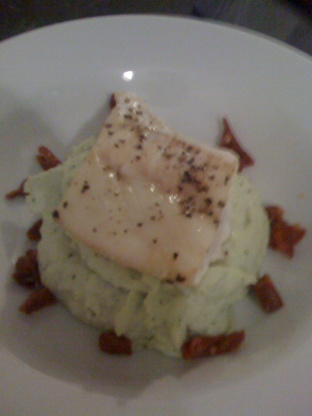 When I first made this recipe, I couldn't wait to have my friends who aren't on a low carb diet try it - because you literally can't taste that it's not potatoes! And I was right! They didn't believe me that it was cauliflower and kept on trying to steal more bites of it at lunch. It's SO rich and creamy, and with a bite from the garlic and fresh basil, I guarantee you're going to be making this every night (I do!) You don't even need salt or pepper.

I have not written a review before on a recipe. But this is the exception to the rule! I have done a similar recipe following the South Beach Diet, and it was good, but does not compare to this. I think it is the cheeses that bring out the flavor. I did not use the sun dried tomatoes, but I am sure it would be absolutely wonderful with this addition. I followed the recipe to the letter with the ingredients listed, but I sauteed the basil and garlic together to soften the vegetable mixture. The best recipe!! You will not be disappointed.
Clean and cut up cauliflower and add into a pot of boiling, salted water.
Boil for about 15 minutes but don't let the cauliflower get too soggy. It should still be firm when you take it out.
Drain very well.
In a food processor add in the basil, garlic cloves (2 if you like a nice bite!), parmesan and course until well blended.
Then add in the neufchatel cheese and the cooked cauliflower.
Pulse until smooth and serve!
(Optional: I like to run a knife through a few sundried tomatoes and add for taste and color - makes a very Italian low carb meal!).