cjr721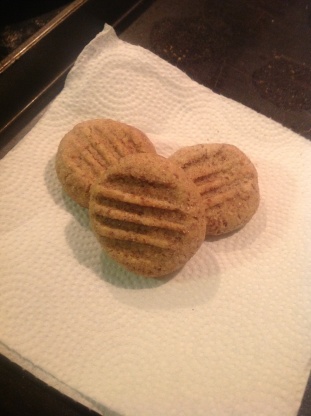 During the holidays my family has a longstanding tradition of baking cookie trays for family and friends. This year, my circle includes a friend who has been advised by her doctor to dramatically reduce her carbohydrate intake. Not wanting to leave her out of the cookie circle, I tracked this recipe down on the web and have posted it here for others interested in low-carb baking. The resulting cookie is a little crumbly like a shortbread with a soft nutty flavor. I like the variation, my own, of adding the egg as the cookie holds together more and has a thin marzipan like center. A bit too rich for my low-fat taste buds but a certain hit for a low-carb diet. According to the recipe these have about 2.7g carbs per cookie.

Top Review by Dee514
FYI: The nutritional facts for this recipe are incorrect because they did not include the nutritional analysis for the almond flour.

The recipe uses 2 cups (224g) of almond flour

2 cups of Bob's Red Mill Almond Meal/Flour contains 1280 calories; 48g protein; 8g sugars; and 24g net carbs
2

cups almond flour
1⁄2 cup Splenda Sugar Blend for Baking
1⁄2 cup softened butter, replace with what ingredient (if you want cookie that holds together a little more easily replace 2 tablespoons of butter with 1 l)
1⁄2 teaspoon salt (if using salted butter, omit salt here)

1

teaspoon vanilla extract

1

teaspoon almond extract

1

egg (optional)
Preheat oven to 300°F.
Using and electric mixer blend softened butter for a minute. Add remaining ingredients and mix together.
Form dough into walnut sized balls and place onto ungreased cookie sheet. The oil from the butter and almond flour grease the sheet as the cookie bakes.
Bake for 5 minutes. Press down lightly with fork, then continue to bake another 18 minutes. The cookies do not brown.
Let cool on sheet for 5 minutes before removing.
For a more festive look, you can drizzle a little melted chocolate (sugar-free, of course) on top.