Low-Cal Iced Cappuccino Delight
Debbwl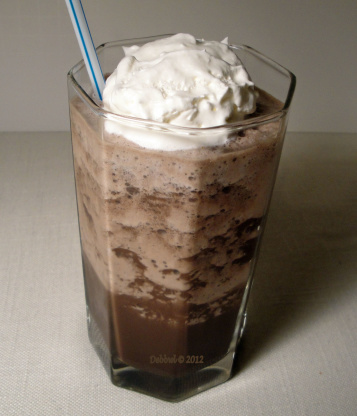 A guilt-free version of Mommy fuel...LOL. Cook Yourself Thin recipe. 110 calories per Cook Yourself Thin recipe

This was super fantastic, it was rich yet so smooth. "Delight" is so appropriate for this drink! I started with a cooled cup of dark French roast coffee (freshly ground), and I only had vanilla yogurt on hand, so maybe that's why mine was delightfully rich yet so chock full of extra flavor boosts. I think you'll find that the yogurt and chocolate syrup add a wonderfully delightful touch to this iced coffee drink. Made for our community's Fight Like A Girl serenade to Mommy Diva.
For the cappuccino

1

cup coffee, cooled or 2 shots espresso

1

cup skim milk

3

tablespoons fat-free plain Greek yogurt

5

tablespoons fat-free chocolate syrup

1

cup ice

For the whipped cream

1⁄2 cup heavy cream

1

teaspoon confectioners' sugar
For the cappuccino: Place the coffee, milk, yogurt, syrup and ice in a blender and blend until desired.
For the whipped cream: In a large mixing bowl, beat the cream until soft peaks form. Add the confectioners' sugar. Continue to beat until stiff peaks form. At this point, you may add extracts or any additional flavorings you may like.
For the assembly: Pour the cappuccino in a glass and top with whipped cream. Garnish with a sprig of fresh mint.