AshK5246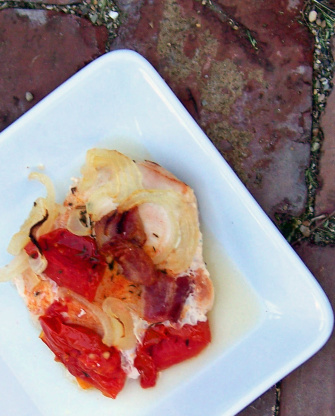 Tomatoes, onions, thyme and wine... This is quick, easy, light, and full of flavor. It pairs perfectly with Chia's Onion Potato Gratin for a light and lovely dinner. If you like cooked tomatoes, feel free to add more. If you are making Chia's potatoes, slice all the onions at once. Assemble the potatoes and put them in the oven, then assemble the chicken and add it to the oven 15 minutes into the cooking time.

I wish I had smell-o-camera so you all could smell this heavenly aroma. I made this for 4, but I only used the 4 slices of bacon for all 4 pieces. That turned out to be enough to impart the flavor and not be too naughty on my WW points. I used tomatoes from my garden and sweet onions. The flavor combination is wonderful, and so simple. It truly is perfect for a summer dinner. Thanks for the wonderful new recipe.
Place chicken on the bottom of a small oven proof dish.
Cover chicken with remaining ingredients. Make sure the bacon is on the top.
Cover and cook at 400°F for 30 minutes, then an additional 15 minutes uncovered or until bacon is crispy.