Lovely "spanakotiropitakia"
gemini08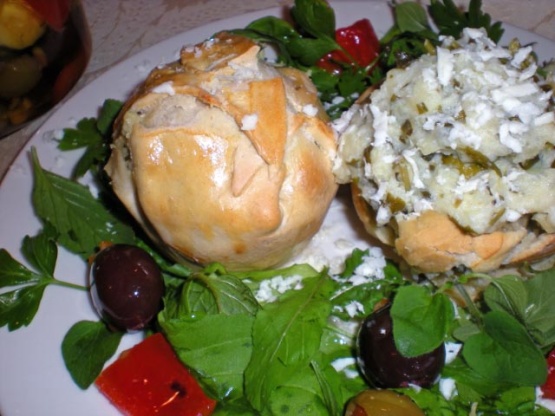 This is a new version of the Greek spinach and cheese pie.

I absolutely loved the filling! I happened to have a small boiled potato which I grated into the mixture and topped with some grated feta, delicious! As to the crust, I would have preferred a more flaky, puff pastry type crust. This one seemed a bit doughy. The next time, and there will be a next time, I am going to use store bought puff pastry or even phyllo dough. Made for the "Down at the Farm" hoe-down. Spring 2012
Fry the onion in the olive oil until translucent, add the leek and keep aside.
In the meanwhile blanch the spinach or Swiss chard. Cool under current water and squeeze out the water.
Add all the ingredients for the filling (reserve 2 tablespoons egg for the topping) and adjust salt and pepper to your taste. Divide into 12 portions.
Mix all the ingredients for the crust together adding the last spoons water only if necessary one by one. Kneet until a nice dough forms.
Roll out the dough 45 to 60 cm (18 to 24 inch).
Cut into 12 squares of 15 cm (6 inch), reserve little dough for decoration if you like.
Insert the fist square into muffin mold. Spoon in a portion of filling. Close first the opposite angles and then the next ones. Fix brushing some of the reserved beaten egg.
Repeat for all muffins.
For decoration you can use the rest of the dough (for example cutting off small hearths), nigella or sesame seeds if desired.
Bake 35-40 minutes at 180°C (350 °F) or until golden and through (heat and timing are basing it on convection oven).
Serve warm or cold.