PaulaG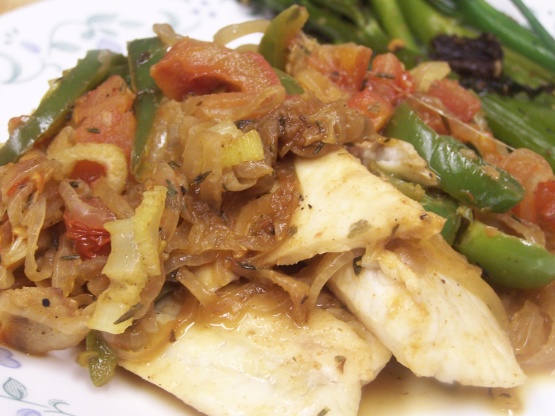 This recipe was posted on a book group I belong to but is originally from a Weight Watchers cookbook. This dish is full of flavor. You won't be disappointed!
Heat 2 Tablespoons of the oil in a nonstick skillet over medium-low heat.
Add the onion, bell pepper, celery, and 1 Tablespoon of the Cajun seasoning.
Cover and simmer until the vegetables are very tender, about 8 minutes.
Add the tomato, garlic, thyme, and salt.
Continue to cook, uncovered, until the tomato is very soft, about 5 minutes longer.
Sprinkle the fish with the remaining 1 Tablespoon Cajun seasoning.
Heat the remaining 1 teaspoon oil in a skillet over medium heat.
Add the fish and cook until just opaque in center, about 3 minutes on each side.
Transfer the fillets to a platter and spoon the sauce over the fish.