Louisiana Style Blackened Chicken
gailanng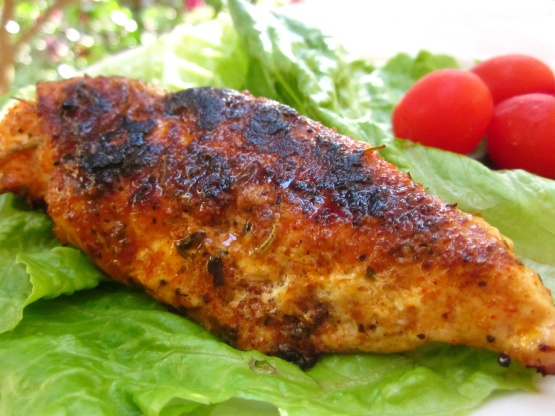 This is a recipe by Jeanne Rankin and I love it.

Made this for dinner last night and my daughter loved it. We like it hot here! I think it would be good with pasta and alfredo sauce as well. That would probably cool the heat but you can always adjust the cayenne pepper if you think it's too much for you. Oh and no joke about the smoke. Open the windows for this one. Thanks for the recipe!
Preheat the oven to 200C/400 degrees F.
In a large bowl, mix together all the blackening spices.
Toss the chicken in the spices, making sure that each fillet is evenly coated.
Heat a large heavy based frying pan over high heat until very hot.
Add the oil and fry chicken fillets on each side.
You want the chicken to fry quite fast so that you sear and roast the spices very well.
Don't be tempted to add too many pieces to the pan at once or you will not get the desired effect.
When the fillet is well seared, place on a roasting tray and bake in preheated oven for 10 minutes.
Serve the chicken on a platter garnished with a few salad leaves.