Louisiana Pickers Shrimp With Piquant Sauce
2Bleu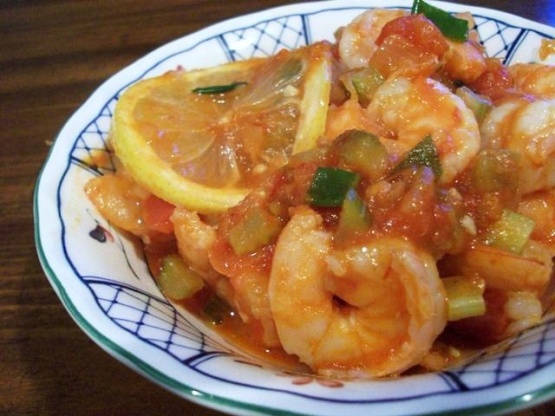 This recipe was found in a wonderful book called The Bluegrass Music Cookbook and was contributed by Marie Cox of the Cox Family, a Bluegrass music group from Cotton Valley, Louisiana. I've tweaked it only in very small ways from the original and lowered the oil substantially. The original recipe called for 1/2 cup cooking oil. If you're not worried about the fat content you could go with the original amount.

Made this for Spring PAC 2011 and it was wonderful. I cut the recipe in half and used a little more oil and added some jalapenos. I have a meyer lemon tree so I used that for the lemon which adds a little more sweetness than a regular lemon.....delicious! Will make this again for sure. Thank you for submitting.
Saute the onion and garlic in the oil until lightly browned (preferably in a nonstick saucepan, otherwise you may need more oil).
Lower hear, cover and cook until tender.
Stir in the next 6 ingredients (celery to red pepper).
Simmer, uncovered, for 30 minutes, stirring continuously.
Add shrimp and lemon slice and cook until shrimp is tender.
Just before serving, add the green onions and parsley.
Serve over hot rice.