Louisiana Mashed Eggplant Patties
Krsi Sue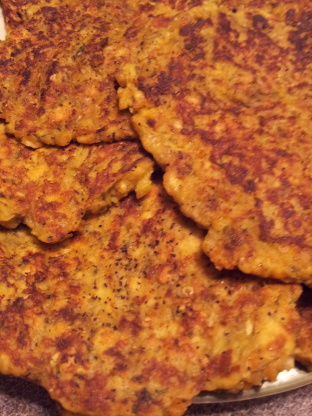 Quick & easy. I serve with Tomato Mushroom Gravy which is posted with Baked Eggplant a La Ce Ce under my recipes. This is meatless. I serve with a salad. If you want, you may crush 3 precooked slices bacon to the mixture before forming patties. I also use Provalone cheese in place of cheddar once in awhile.
In a 2 quart saucepan heat water.
Peel and cube eggplant.
Drop into boiling water. Cover and cook until tender.
While eggplant is cooking, mix all ingredients except lemon juice and shortening in a bowl.
Drain eggplant and mash with fork or beaters.
Add lemon juice.
Add eggplant lemon juice mixture to bowl mixture.
Heat shortening or oil in large frying pan.
Form 8 patties Fry until brown on both sides.