Louisiana Mardi Gras Pasta
eydiec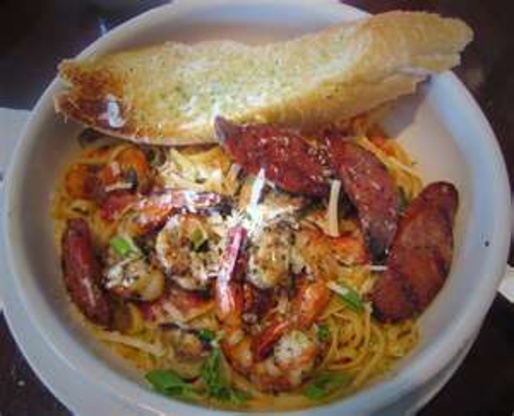 This is one of many "Mardi Gras pasta" recipes. I have changed it over the years and it is always a favorite of my guests. Color and flavor is the big thing.
This dish is amazing! I used crawfish, shrimp, and andouille. The only modifications I made were adding in diced yellow onion and cayenne. My husband is a foodie and LOVED it, suggesting I make it again in a few days when friends will be coming over for dinner. I served with garlic bread, which was a nice addition. You'll want to stuff yourself with it, and dishing out generous bowls, I got closer to 4 servings, not 6.
In a cast iron pot (3 qt), melt butter over med-high heat.
Add green onions, mushrooms and andouille.
Saute 3-5 minutes, add garlic and tomatoes and continue to saute for 3 minutes.
Add shrimp and crab meat or crawfish cooking for 2 additional minutes.
Deglaze pan with white wine and lemon juice and cook until volume of liquid is reduced to half.
Add heavy whipping cream and, stirring constantly, reduce until cream is thick and of a sauce like consistency, approximately 5 minutes.
Add diced bell pepper and chipped butter, 2- 3 pats at a time, swirling pan constanly over burner.
Do not stir with a spoon.
Continue adding butter until all is incorporated.
Remove from heat, add parsley and season to taste using salt and pepper.
Gently fold in cooked fettudcine and serve.
This is also good served cold as a pasta salad.