gailanng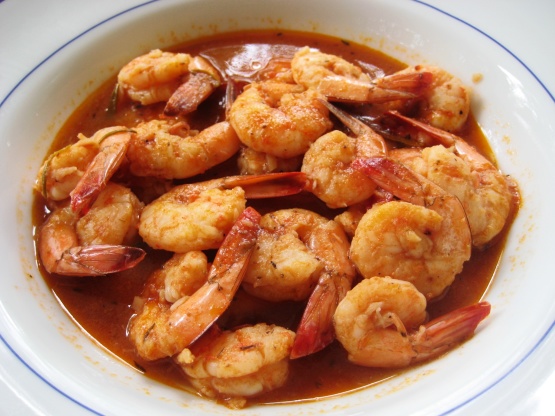 OHHHHHHMANNNNN is all I can say about this dish. This is one of my "secret" oft requested recipes and I've decided to share it with you because nothing this good should be kept secret.

I had to do something oh so wrong. I prepared the sauce mixture early in the day. About 2/3 into the cooking time I felt something was needed. I added salt which is not listed in ingredients, about 5 more garlic cloves and a dash of cayenne. After refrigerating, hopefully to meld flavors, I reheated the mixture and added the shrimp. The 3 minute cooking time was not enough for the shrimp to absorb the flavors in my humble opinion and the sauce seemed unremarkable.
Crunch up the rosemary and thyme using fingers.
Place all ingredients, except shrimp and french bread, in a large pot.
Simmer this mixture for 2 1/2 hours.
Five minutes before serving add shrimp and cook about 3-4 minutes or until shrimp is done.
Serve shrimp with broth and toasted French bread for sopping the broth.