Louisiana Green Beans (Creole Recipe for ZWT-9)
diner524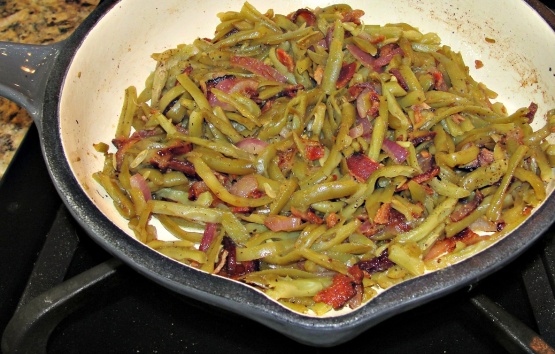 Found at a cooking-by-country (or region) website, just reading this recipe took me back decades to a time growing up when we would pick beans from the garden & cook them until soft w/a combo of onion w/ham or bacon. I never cared when the main-course was as long as I could have a HUGE plate of those green beans. If it was my choice to make, I would definitely dbl this recipe! Enjoy!
I found I really enjoy the Cajun/Creole flavors during our Quest/ZWT events and this was so good!! I did use canned French Style green beans, the grease from the bacon (for the oil) and red onion, but otherwise, used the items called for in the recipe. I did cut back a bit on the Creole seasoning, as I didn't have a full pound of green beans.
Heat oil in a frying pan. Add the bacon, onion, garlic plus parsley & sauté until onion is soft & golden brown.
Add the beans, salt to taste preference & Creole seasoning. Reduce heat to low & cook gently for about 30 min or until beans are soft (Add a sml amt of water if needed to keep the beans from sticking to the bottom of the pan.
HINT: Try pairing these beans w/my also newly entered Creole Meatloaf recipe & your favorite thick mashed potatoes. Yum!