Louisiana Deviled Crab Cakes
YaYa1689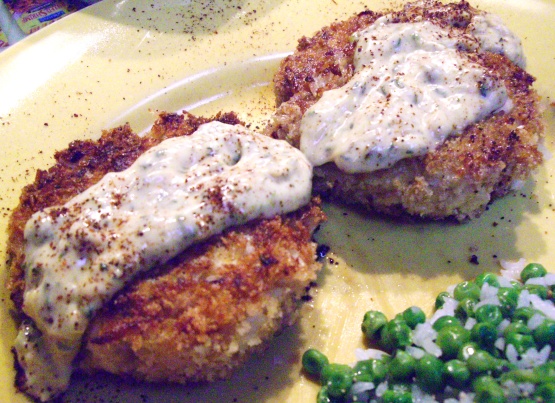 From a magazine that says this about the recipe: "These crab cakes are flavored with the "holy trinity" of Cajun cooking: onion, green bell pepper, and celery. Serve them with a hepling of coleslaw or a green salad." This makes a nice light main course, lunch or appetizer.
Cook onion, bell pepper, and celery in 1 tablespoons butter in a 10" skillet over moderately low heat, stirring occasionally, until vegetables are softened, about 8 minutes.
Whisk together egg, sour cream, mustard, Worcestershire sauce, cayenne, and salt in a large bowl, then stir in scallion, cooked vegetables, and 1/4 cup saltine crumbs.
Gently stir in crabmeat, then form into 4 cakes (2 1/2 to 3 inches in diameter).
Dredge cakes in remaining saltine crumbs.
Heat oil and remaining 2 tablespoons butter in cleaned skillet over moderate heat until foam subsides, then cook crab cakes, turning once, until golden brown, 8 minutes total.