Louisiana Creole Vegetable Jambalaya
rosie316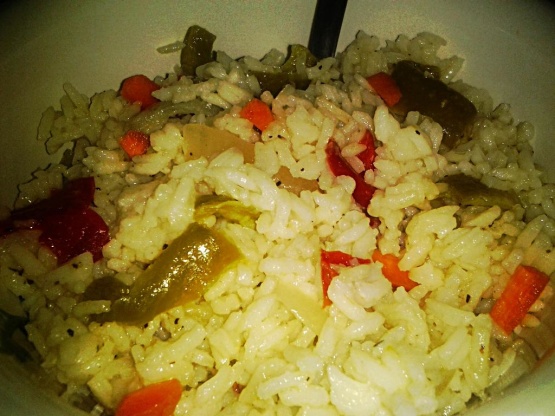 This tastes as good the second day as the first.

I made this for hubby and I. Personally, I like meat in mine, but for a vegan dish, this tasted delightful. I loved the added zucchini & carrot (never tried that before in jambalaya). I halved the recipe since it was only the two of us. I didn't have the whole amount of the tomatoes to make half a batch, but that's okay because I don't care for them much, (I picked around the few chunks in there anyway). Thank you for posting this recipe. (Made for ZWT9-Cajun Holy Trinity challenge)
3

tablespoons vegetable oil

1

cup onion, diced

2

garlic cloves, minced
3⁄4 cup celery, diced
1⁄2 cup carrot, diced

1

teaspoon thyme, dried

2

teaspoons paprika
1⁄2 teaspoon salt

1

bay leaf

2

green peppers, seeded and diced

2

red peppers, seeded and diced

1

cup black-eyed peas, cooked

1

(28 ounce) can plum tomatoes, chopped with juice
3 1⁄2 cups vegetable broth

2

zucchini, diced
1 1⁄4 cups long grain white rice
1⁄4 cup parsley, chopped

1

pinch cayenne pepper
Heat the oil in a large heavy pot over low heat. Add the onions and cook, stirring until wilted, 10 minutes. Add the garlic, celery, and carrots. Cook, stirring 1 minute longer.
Mix in the thyme, paprika, salt, cayenne, and bay leaf.
Add both of the bell pepper, the black eye peas, tomatoes with their juices, and broth.
Bring to a boil. Reduce the heat to medium-low and cook, partially covered, for 10 minutes for the flavors to blend.
Adjust the seasonings. Remove and discard the bay leaf.
Add the zucchini and bring the sauce to a boil. Stir in the rice, cover, reduce heat to low, and cover until the rice is tender, 20 minutes.
Adjust the seasonings, stir in the parsley, and serve immediately.