Louisiana Compound Butter
twissis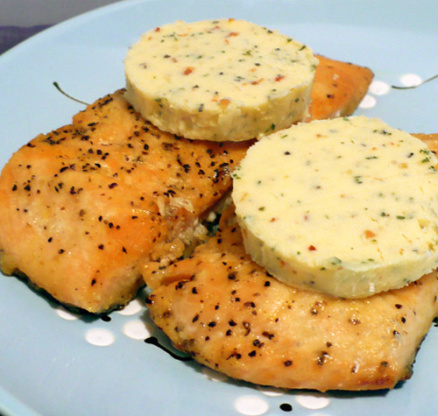 Compound butter is an incredibly easy, yet, impressive way to season meat, fish, and poultry. Louisiana Compound Butter is my favorite; it is really good on grilled steak, but it is extraordinary on grilled salmon!

Made for Spring PAC 2010, this easy-fix recipe may well be my fave from among the recipes I chose. When I read *extraordinary on salmon* in your intro, I was hooked & it went far beyond my expectations. Fresh cilantro & Durkee sauce are not available here in Iceland, so I used dry cilantro & Tortuga SWEET HEAT Caribbean Pepper Sauce, altho I admit the latter in a lesser amt than the recipe prescribed for the sake of my DH. I oven-baked the salmon vs grilling & it was extraordinary! TY for sharing this great recipe w/us. :-)
8

ounces butter, softened
1⁄2 cup durkee red hot sauce
1⁄2 teaspoon garlic, minced
1⁄2 bunch cilantro, finely chopped
Place softened butter, minced garlic, and finely chopped cilantro in an electric mixer.
Mix on slow speed until all ingredients are well blended.
SLOWLY add hot sauce until well incorporated.
Wrap the ball of butter into a large piece of wax paper; form into a log (with the diameter of the log being the size of a silver dollar).
Place log in freezer until firm.
Cut log into 1/4-inch to 1/2-inch slices and place on top of grilled salmon immediately before serving.
The remaining butter can be stored in an airtight container for up to two months.