Louisiana Chicken and Corn
Elmotoo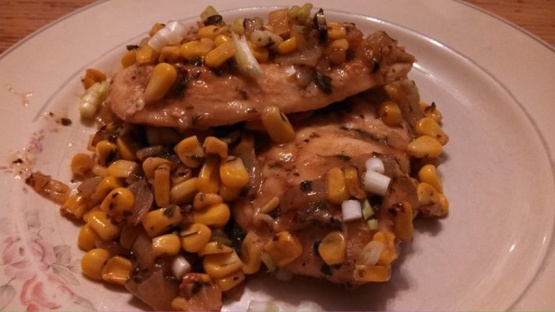 When I was cooking my Louisiana Pepper Chicken recipe, I went to chop the green peppers and they were bad inside. Then I was missing some other ingredients, so I kept improvising and ended up with this instead. DH absolutely loved it and asked me to write down what I did so I could make it again.

This was an easy and delicious recipe,PanNan!Onions,chicken and corn,all our favorite things and served over rice.....we were in heaven!I used 2 cans of corn and didnt change anything else.The lemon juice was a nice touch!Thanks for a great recipe!
Rinse and dry chicken.
Combine salt, cayenne and flour.
Dust chicken with flour mixture.
Heat oil in large skillet on medium heat.
Add chicken.
Cook until browned on both sides and no longer pink in center.
Place on serving platter and keep warm in low oven.
Add onion, corn and parsley to skillet drippings.
Cook and stir about 3 minutes until onion is lightly browned.
Spoon over chicken.
Increase heat to high.
Add chicken broth, lemon juice, basil and thyme to skillet.
Cook until reduced to about half.
Add corn starch mixture and stir until thickened.
Place rice on a plate.
Top with chicken and corn mixture, then pour some of the sauce over all, topping with some chopped green onion and a few drops of red pepper sauce.