Louisiana Caramel Pralines
pammyowl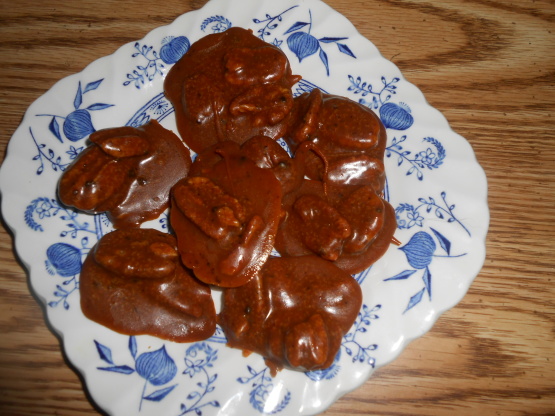 I know there are a lot of praline recipes already posted, but I couldn't find this one & suspect there could hardly be 1 more authentic than a recipe straight from the *River Road Recipes* cookbook published by the Junior League of Baton Rouge. Mrs. C.E. Phillips was acknowledged as the source of the recipe, but no times or yield were given. I have guesstimated them w/a *heavy accent on the guess* part of the word, but the real bottom line is the yield depends on the size you choose to make & how you view the # of servings. *Enjoy*

Oo-ey, Goo-ey goodness. With nuts. Whoa. I am a novice candy maker. Made fudge once this past Xmas and then pralines also that same time. So I'm not 100% sure I did everything the best I could. I used a candy thermometer and cooked the mixture until the thermometer registered at the firm ball stage. That took almost a half hour for me to cook the candy to that point. Perhaps I should have turned the heat up higher on my stove sooner? Dunno. (Total time was about 40 minutes.) I decided to just drop the candies onto wax paper, but now we're having some real difficulties getting them off the paper without the paper sticking to them and tearing and staying stuck on. Next time I'll try something else. But geez, they are good. Thanks for the recipe. Will definitely make again. I got 33 candies from the batch.
Place 2 cups sugar & milk in a lrg saucepan. Cook slowly, stirring often.
At the same time, put other cup of sugar in a 2nd saucepan on low heat & stir till melted.
Pour 2nd mixture slowly into the sugar & milk that should be read to boil & stir while adding.
Cook slowly till a firm ball forms when dropped into cold water (238°) & remove from heat.
Add vanilla, pecans & butter. Stir till mixture begins to thicken.
To avoid sticking as experienced by the 1st reviewer using waxed paper which was given as an option -- drop by spoonfuls in desired size onto a lightly sprayed baking sheet or buttered cookie sheet (candies should set up immediately).