Nif_H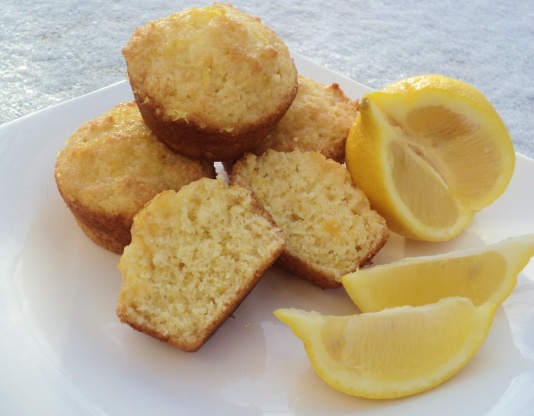 These muffins are really moist and really lemony. This is my oldest son's favorite muffin. The recipe come's from an old copy of Bon Appetite. My Dad always likes to add a few lemons into packages he sends us from California, which always makes these muffins extra special. 9-16-09 Since this was first posted it has become very difficult to find yogurt in the 8oz size so you either have to buy 2 6oz yogurts or add a little extra plain yogurt or a little sour cream. This is a very firm dough, not a loose batter like most muffins, but the muffins still come out nice and moist, enjoy!

These muffins were great! I made them for Mother's Day and everyone loved them. I made a mistake while mixing and put 1/3 cup of lemon juice into the batter instead of 1 Tbsp. I was afraid the batter would be too thin, but it was fine. Easy recipe with great results. I'll definitely be making them again!
Muffins.
Preheat oven to 400 degrees.
Grease or spray muffin pan with release spray such as PAM.
Mix together dry ingredients in a large bowl and make a well in the center.
In a separate bowl mix together wet ingredients.
Pour wet ingredients in to the well of the dry and stir together gently until there are no flour streaks, it's ok if there are some lumps.
Bake 20 minutes, edges should get just a little brown, test as usual.
While muffins are baking, prepare glaze.
Glaze.
Mix glaze ingredients together in a small saucepan over medium heat, stir until sugar dissolves and mixture simmers slightly.
Keep warm low heat.
As soon as muffins are removed from the oven poke each one several times with a skewer, then spoon glaze over the muffins, using up all of it.
Enjoy!
NOTES:.
The dough is much stiffer than most muffins, don't worry they still come out nice and moist.
I don't use muffin papers with this recipe or you lose a lot of the glaze that is normally absorbed around the sides, which adds to the moistness of the muffin.