Lots of Veggies Crock Pot Chicken Soup
loof751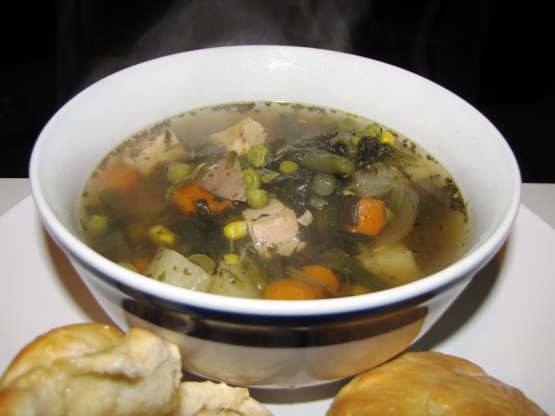 This is a wonderful and healthy comfort soup! I whipped this together with ingredients already in my kitchen one cold and rainy Seattle Sunday. It turned out scrumptious, and it freezes well for a quick weekday dinner. This makes a very chunky veggie-intensive soup - if you want to go lighter on the veggies, then just omit some of the listed ones, such as the bag of frozen mixed veggies. I am cooking some right now in my crock pot and can't wait for it to be ready! Serve with fresh warm bread and enjoy!

This recipe is quick, easy and delicious. It was so nice to arrive home in the evening to a warm meal after work, school and after-school activities. We really enjoyed all of the veggies. I didn't have a bag of frozen mixed vegetables but did use up the odds and ends of frozen veggies that were in my freezer...corn, peas, italian green beans and limas. The salt was a bit much for our tastes so I will use low sodium products next go around. Also I'll cut back on the black pepper as the children found it to be a bit too peppery for them. Cooking time in my crockpot was 9 hours (I have an older one). Thanks for a yummy soup Helping Hands.
Place chicken in crock pot, followed by potatoes, then all other vegetables.
Add bouillon cubes and water and stir well.
Sprinkle with all spices and garlic.
Stir thoroughly.
Cook on low for 5-7 hours.