Lorri's Pineapple Coleslaw
PaulaG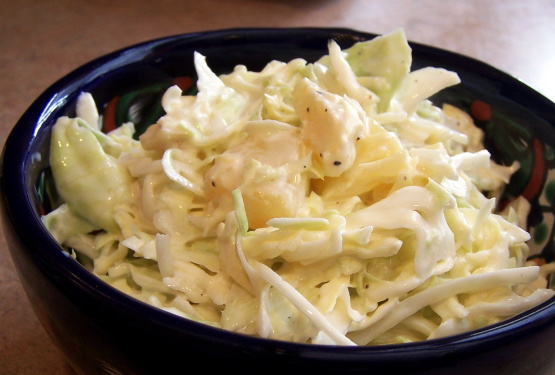 We have a restaurant here in El Paso, TX called the Cattleman's Steakhouse. It is world famous for it's steaks, slaw and beans. This is my rendition of their wonderful slaw. Simple, yet mighty tasty (and fattening)! Enjoy...
Top Review by PaulaG
If this isn't Cattleman's slaw it is so close that a taste test would have to be done side-by-side. I prepared the slaw and allowed it to sit overnight, leaving off the half-and-half. It is very nice and creamy and we didn't miss the cream. I used a white wine vinegar as the recipe didn't specify. Thanks for sharing.
Mix cabbage and pineapple.
Mix cream, mayo, sugar and vinegar.
Add cream dressing to cabbage and pineapple.
Salt and pepper to taste.
Store covered in refrigerator 1-2 hours before serving.