Lorie's Prizewinning Chili
teresas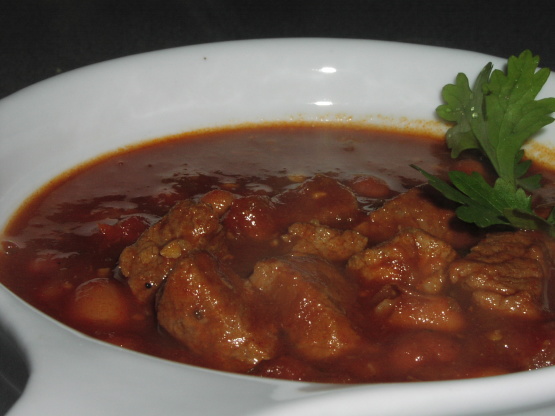 I won a chili cookoff with this recipe. What's special about it? I don't know. I just made it the way I always do, with the exception of noting the ingredient amounts and method in case anyone wanted it. It's not really a "secret" chili. It is just made the way I like chili. Oh, and if you're one of my Texas relations, don't call me on the phone about the can of beans. You know I like them, so give it up. They're "optional." TNT OOPS! Lazyme is correct, the green chiles go in at step 2 with the "wet ingredient add" (if you sub any wet ingredient besides tender cooked beans, add it there at step 2). Beans fall apart if you overcook them. Please mark Lazeme's review as helpful since her comments helped correct this recipe!!!! Thanks, Vicki!!! -Lorie

Wow! I was pleasantly surprised. I can see why you won the cook off. This is packed full of yummy flavors. Looking at the ingredients I didn't really think it would come out so good. I cut the recipe in half so besides adding BEANS I used my whole can of green chili salsa. I did prepare this the day before up to step 4. I have always believed chili is best on the second day. This does make a lot so we have plenty of left overs. Thanks for posting.
In a large pot, cook the onions in lard (or oil) until translucent. Add the garlic and beef and cook over high heat until beef is seared and brown.
Add the green chilies, salsa, tomato puree, diced tomatoes, broth, tomato paste, salt and pepper, stirring until tomato paste blends in to the mixture.
Reduce heat, add half the cumin, onion powder, garlic powder, cayenne pepper and chili powder and simmer over low heat until beef is tender, adding a little more beef broth or water if your fire ends up to high and the chili gets too thick.
Add the remaining spices when the beef is tender and check for saltiness adding some more if needed (estimated cook time depends on the tenderness of your beef). Stir in the beans at this point if you like them and simmer for 10-15 minutes more.
Adjust spiciness if you like, before serving.