Lone Star Pot Roast (Dutch Oven or Crock Pot)
MsSally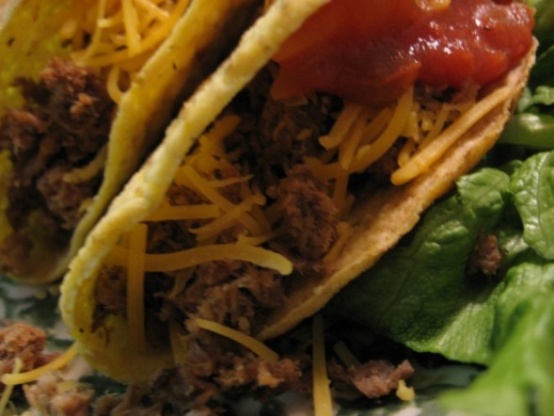 This roast also works well in the crock pot. Brown the roast, then place in crock pot with the next 5 ingredients. I let it cook on low all day, then stir the next 2 ingredients into the broth, switch to high and let cook until thickened (approx. 20 min.) if serving with gravy. Serve with yellow or Spanish rice. Sometimes I don't make the gravy and instead shred the meat and use it for burritios, etc....Cooking time is based on directions below....Omit the gravy step if you would like to use this roast shredded for burritos, tacos, etc......that's actually how I usually use it. :)

This was wonderful. I put all the ingredients in the crock pot. My roast was almost completely FROZEN. So I seared both sides about 3 mins each then put in on high for 1 1/2 hrs and low for 7. Took the meat out roughly chopped and put in my food processor with about 1/2 c of pan juices, and used as taco filler. WONDERFUL alternative, to ground beef. Will make this way again. It was DH's idea to mince it in the food processor and this time it was a great decision :)
In a Dutch oven, brown roast in oil. Combine tomatoes, chilies,taco seasoning, bouillon and sugar; pour over the roast. Cover and simmer 2 to 2 ½ hours or until the meat is tender.
Remove roast to a platter and keep warm. For gravy, pour 2 cups pan juices into a saucepan.
Combine the cold water and flour; stir until smooth.
Add to juices; cook and stir over high heat until thickened and bubbly, about 3 minute Slice roast.
Serve with gravy.
Serves 6 to 8.