London's Borough Market Chocolate Brownies
christie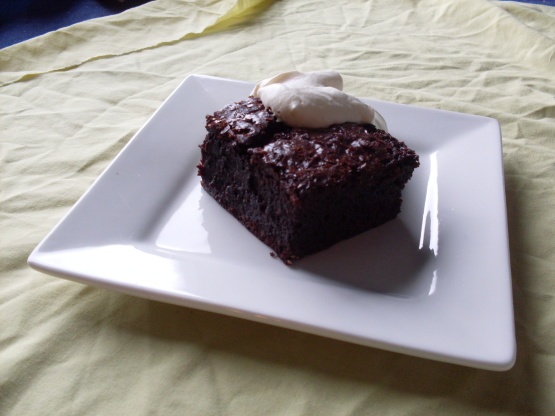 Borough market brownie-maker Matt Jones shared his infamous dense chocolate brownie recipe on BBC Good Food, and I am posting it here for safe-keeping! For anyone who has tasted one of these brownies, the experience is sublime.......deep, intense and chewy brownies that are packed full of lucious chocolate! Borough Market is London's oldest food market, its origins date back from the time when the Romans built the original London Bridge. And, although it has moved from where it was originally established, Borough Market has occupied its current site for the last 250 years. You can find both food and non-food items in this market, but locals regularly go here to get fresh produce from various parts of the British Isles. One of the most popular foodie treats in the market, is the ostrich burger, as well as these delicious brownies. Makes 12 LARGE squidgy brownies.

WOW these brownies can put one in a chocolate coma...if you are a chocolate lover this is a must try recipe. I had trouble getting the center to cook. When I cut these, the very center of the pan resembled a lava cake...which is way beyond gooey. I made these during my daughters' weekend long sleep over and was surprised to find that almost everyone present felt they were too rich. Made and Reviewed for the 38th AUS/NZ Recipe Swap.
Heat the oven to 180C/fan 160C/gas 4. Butter and base-line a 20cm-square baking tin with baking parchment.
Gently melt chocolate and unsalted butter together in a bowl over hot water until smooth then cool a little.
Whisk 6 whole eggs, 2 yolks and caster sugar together until pale. Fold the melted chocolate mix into the eggs. Sieve cocoa powder with plain flour then fold everything together until evenly mixed.
Pour into the prepared tin and bake for 25 to 35 minutes, or until slightly risen at the edges. Allow to cool completely in the tin.
Cut into 12 and indulge - you should have a thin crisp crust and a rich, gooey centre.