KateL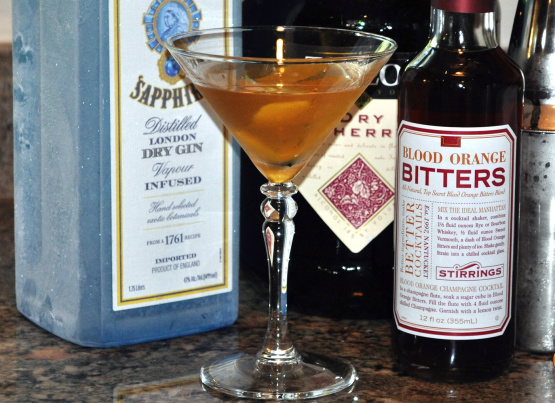 Based on a recipe from Ray Foley's the Ultimate Little Martini Book containing over 1000 martini recipes.

Top Review by KateL
My favorite martini of ZWT8 Britain so far: DH's eyes popped at the strength of the cocktail, while I contemplated making a second one (but that is taboo, there is no accounting for my actions after a second martini, even with no driving involved). I must like the citrus accent of the Blood Orange Bitters (do not confuse with Angostura Bitters) and the interplay of dry sherry rather than whiskey (bourbon or scotch). To me, this was beguiling, but for now I am behaving. Made for The Wild Bunch for ZWT8's visit to Britain.
1 1⁄2 ounces dry gin, Beefeater preferred
1⁄2 ounce dry sherry

1

dash orange bitters

1

lemon twist (garnish)
Stir or shake all ingredients together and pour into martini glass.
Garnish with lemon twist.