London Broil ( Broiled Flank Steak)
JRH8598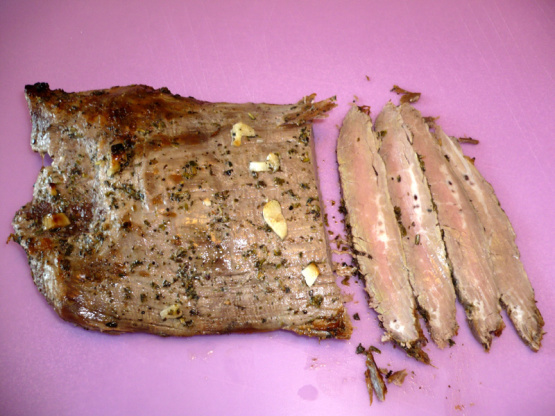 I was browsing on this site for a Flank Steak recipe when I remembered this tried and trusted recipe from an old diet book "The New Canadian High Energy Diet" by Sandra Cohen-Rose and Dr Colin Penfield Rose. An easy marinade that does not have to be prepared as far ahead as some, which is good for those like me who are not always so organised! I often double the marinade quantity as it's a little "skimpy". Preparation time does not include marinating. Make extra to use in sandwiches.
Mix marinade ingredients together.
Put steak in shallow dish in which it can lie flat. Pour marinade over and refrigerate 2 hours.
Broil 4 inches from broiler for 15 minutes. Turn, brush with marinade and broil 5 more minutes.
Slice very thinly across the grain.