Lomo Saltado, Peruvian Stir-Fry
Mishkan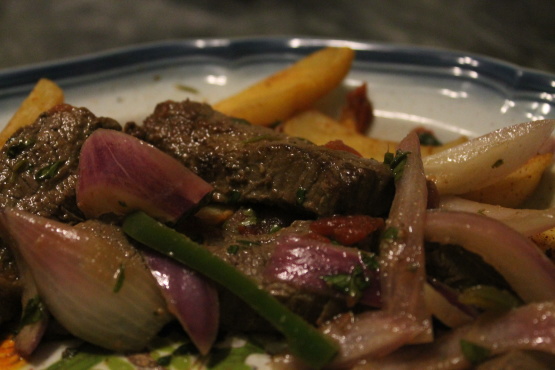 This dish is made of marinated steak, vegetables, & fried potatoes and it is sometimes served over rice. It is one of the most popular recipes in Peru. I am posting it for ZWT 2008. Based on reviews I have cut back on the amount of meat & jalapenos. Thanks for the great feedback...
Came out awesome! Hubby says "best thing you've cooked so far"! Love to hear and makes me want to up my cooking game. This recipe was really easy to follow. Only suggestion is to let meat marinate longer than an hour to get all those great flavors.
Make a paste by combining the garlic & salt. Whisk together the garlic paste, rice vinegar, soy sauce, canola oil, cumin, & ground black pepper.
Place the steak in one bowl & the onions in another. Divide the marinade between the 2 bowls & let set in the refrigerator for at least an hour.
Pour a small amount of oil in a wok & turn on medium heat. Once the oil is hot add the steak with marinade & cook until brown. Add the tomato & simmer for a few minutes.
Add the jalapeño, cilantro, & onions with marinade to the wok, slowly stirring until well blended. Simmer for 5 more minutes.
As the ingredients are cooking in the wok, sprinkle the potatoes with paprika & fry in a separate pan. Once done add to the other ingredients.
Serve with a dish of white rice.