TJW2725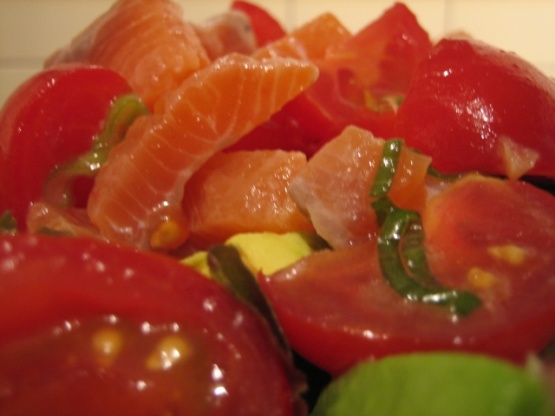 Credit for this recipe goes to Nolallan at Epicurious. For those of us who love the Hawaiian Islands or are Hawaiian or Hawaiian at heart, this appetizer is a wonderful taste of the islands, sure to bring back that ecclectic polynesian taste only found on our beautiful Hawaiian Islands!
Added to this recipe a 1 hour curing of the salmon in fresh lime juice. The salmon was super-salty after removing from the salt so I rinsed it in H20 then let it soak in fresh-squeezed lime juice for an hour before patting dry. It was a hit! Thanks for posting this!

My 5 year old daughter discovered Lomi Lomi on our recent trip to Kauai and loved it! She thought this was a good representation that we could make at home. Everyone who tried it loved this recipe.
Make sure you use the freshest salmon you can get, preferably, it jumped right into your kitchen from the ocean.
Place salmon in glass dish, cover completely with salt( you may not need all two cups)and refrigerate overnight.
Drain salmon in the morning and pat dry - do not rinse.
Dice salmon and place in favorite serving bowl.
Chop tomato, green onions, placing on salmon.
Sqeeze juice from half of the lime, removing seeds.
Cover salmon mixture; placing freshly chopped cilantro on top. Refrigerate 3 hours before serving.
Serve with avacado slices.
Note: prep time does not include the overnight salting process.