Nif_H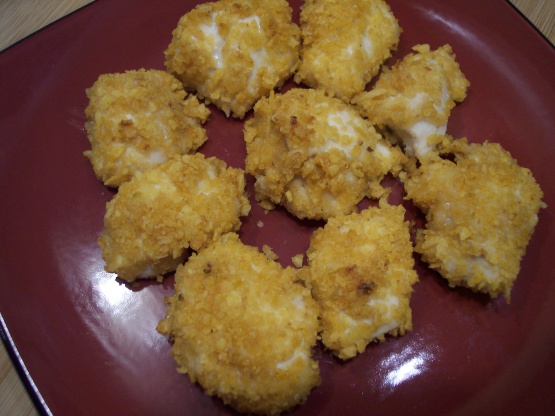 Your kids will love this almost as much as the adults in the house. Experiment with different chips to find your favorite flavor. Have used just about every kind with success. Use as a main dish or appetizer.

This is great! I really enjoyed the change of pace with the "breading" for these nuggets. I used Lays White Cheddar flavour potato chips and pre-marinated the nuggets in my personal marinade before dipping and coating. These did not turn out crunchy (as I thought they would be) but I thoroughly enjoyed them and can't wait to have them again. I also didn't bother to skewer them and just ate as chicken nuggets alongside macaroni and cheese.
Preheat oven to 350 degrees F (175 degrees C). Grease a baking sheet.
Crush potato chips onto a plate. In a large bowl, whisk together egg and milk. Dip the chicken cubes into the egg mixture, then coat well with potato chips. Spread the nuggets onto the baking sheet.
Bake for 10 minutes. Turn nuggets over, and bake for 10 minutes more, until golden brown. Remove baking sheet from oven, and insert a lollipop stick into each nugget.