SReiff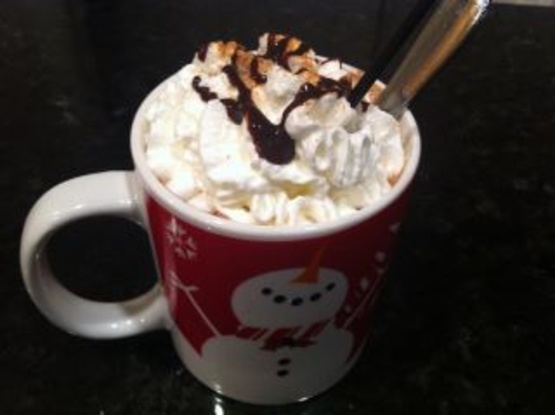 My eight year old loves mocha/ja'mocha drinks. I came up with this recipe for her and she came up with the name of this yummy hot chocolate drink. I make this using decaf coffee for the kids, but it could be a delicious caffeinated grown up drink at the end of a nice meal. Don't forget the whipped cream and cinnamon sugar toppings - they are "the icing on the drink" (so to speak!) Hope you enjoy it as much as we do!

This was a nice hot drink on a cold day! I used skim milk & sugar free syrup-and instead of cinnamon sugar, used a Splenda pkt. I was so eager to drink that I forgot the whipped cream!! But that just made the chocolate flavor nice & strong :-). Thank u for sharing!
1

cup milk

1

teaspoon instant coffee

2

tablespoons Hersheys Chocolate Syrup
whipped cream
cinnamon sugar
Mix milk, instant coffee and chocolate syrup together in a mug.
Place into microwave for 1 - 1 1/2 minutes.
Top with lots of whipped cream and cinnamon sugar.
Enjoy.